Explore the Recreational Areas of Tenerife before you leave home
At Tenerife ON you can find official, up-to-date information on the recreational areas and outdoor facilities available on the island.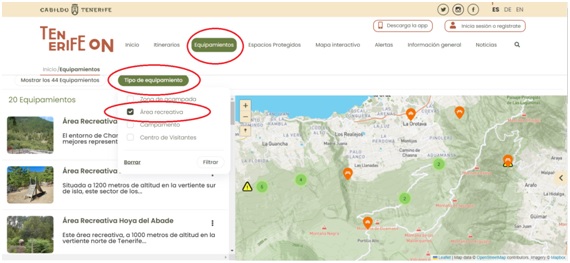 Do you want to check out the amenities and facilities at the next Recreational Area you are going to visit in Tenerife?
Then all you have to do is go to our "Facilities" section and filter by "Recreational Area".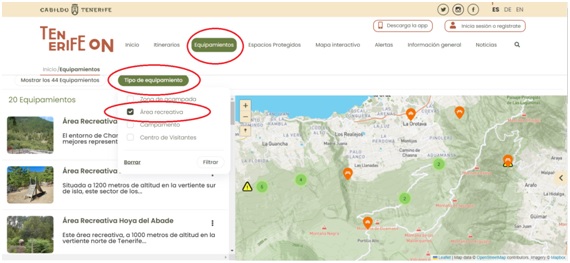 Find the one you are interested in on the map or in the left menu and click on it to access the information.
This is where you will find practical and relevant information on the facility:
Services available.
Location.
Level of accessibility.
How to get there.
Contact.
Capacity.
Opening hours.
Description of the site.
Advice and good practices.
Restrictions on use and authorisations (if required).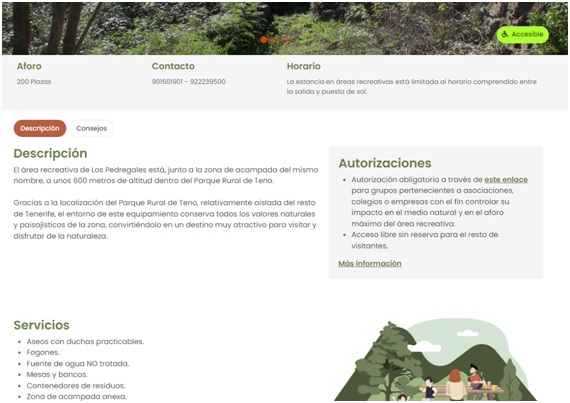 It is not necessary to apply for a permit to use most of the recreational areas, unless you are with a group that takes up more than 50% of the capacity or the activity is organised by a public or private entity. In these cases, in the information page of the Recreational Area you will find a link to the website of the Tenerife Island Council (Cabildo de Tenerife) where you can make your application.
Have you already chosen which Recreational Area you are going to visit next?
Then please bear in mind these basic rules during your visit:
Respect the natural environment: do not alter the landscape or disturb the plant and animal species that live there. In particular, do not use sound equipment, speak in a loud voice or make loud noises to preserve the tranquillity of the forest.
Keep the facilities clean: although most of the recreational areas have waste and recycling bins, we recommend that you take rubbish bags with you to make sure you do not leave any litter behind.
No fires: remember that fires are only permitted in designated barbecue areas, and only if there is no active high temperature alert or any other type of restriction.
Save water: the (untreated) freshwater available in some recreational areas is limited, so we ask that you use it sparingly and that you refrain from pouring waste or soap into the water points.
Be respectful: do not exceed the capacity of the recreational area, leave your vehicle, bicycle or horse in the designated areas, keep to the designated footpaths and, if you are travelling with dogs, keep them on a leash and under control at all times.
Plan your visit: before setting off, check the official information on the recreational area, check the weather forecast, make sure your phone has enough battery power, take a first-aid kit with you and inform your family and friends about your planned activity.
Remember that you can find all this advice together with official and updated information on Tenerife's recreational areas in our section on Facilities.
Now all you have to do is choose your next outdoor destination on the island and enjoy yourself responsibly and safely. See you there!