How to choose a route suited to your level of fitness
How to use Tenerife ON to choose a trail that is safe and suitable for you.

Before venturing out on the hundreds of trails that criss-cross our island, it is important that you take into account your fitness level.
Tenerife ON offers you a wide range of options for your next trip. But these routes are not only varied in terms of the landscapes and Protected Natural Areas that they pass through, but also in terms of their level of difficulty and physical demands.
Do you want to choose a trail suited to your fitness level for a safe and satisfying experience?
Here is our advice:
Be aware of your physical limitations:
Before selecting your Tenerife ON route, first consider your cardiovascular endurance, muscle strength and flexibility.
For example? If you have not done any intense physical activity in a long time, start with easier trails (short distance, little elevation gain, etc.) and then progress to more challenging routes as you feel more confident and capable.
Take note of the level of difficulty of the trail:
In our routes section, once you select the type of route ("Hiking"), you also have the option to filter by "Difficulty according to MIDE criteria", which classifies the routes according to very low, low, medium, high or very high difficulty levels.
The MIDE method grades each route in four categories: the severity of the natural environment, route navigation, difficulty of terrain and the physical effort required. If you need more information about this rating system, you can find more details here.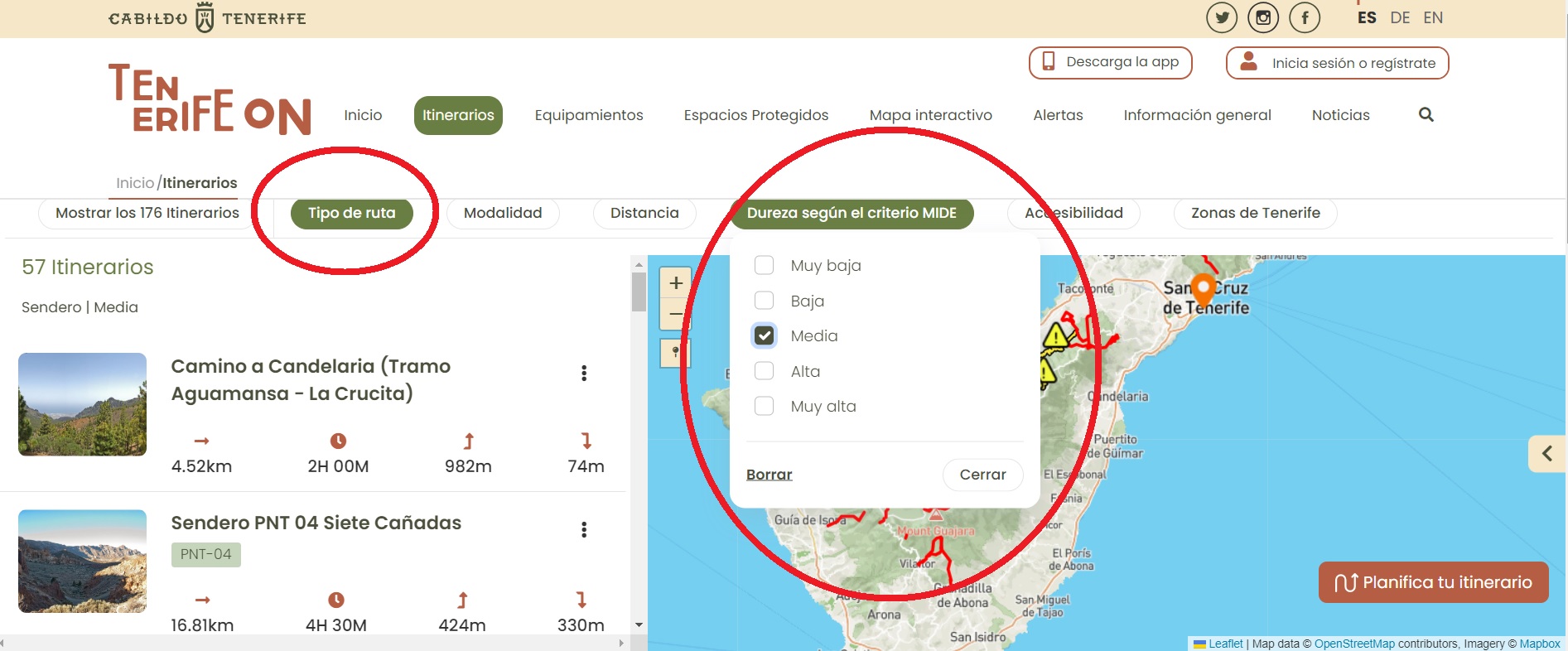 Read the trail descriptions and advice:
Before deciding on a trail on Tenerife ON, carefully read the descriptions and tips provided on the information page for that trail.
This information will give you a better idea of what to expect in terms of terrain, elevation gain, potential difficulties and estimated duration of the route.
Consult professionals or experienced guides:
If you have doubts about your physical ability or choice of trail, consider hiring professionals or experienced hiking guides.
They will guide you and will be able to advise you on the most suitable routes for your level.
Listen to your body and respect it:
During the hike, pay attention to the signals your body gives you.
If you feel excessive fatigue, dizziness, shortness of breath or other signs of exhaustion, stop, rest, and assess whether it is safe to continue. Do not push yourself beyond your limits and remember that enjoying nature means taking care of yourself and your physical well-being.
When you respect your own limits and choose routes suited to your fitness level, you keep the risk of injury or danger to a minimum. This is the best way to ensure you have a rewarding experience when you enjoy the natural beauty of Tenerife.
Remember: to continue exploring Tenerife's trails, the first thing you must do is look after your health and well-being. Enjoy the adventure!